By: Jeff Agner, MPH and Christina Olivarria, MSPM
Change is inevitable, and a significant part of the human experience. Prosperity and adversity alike have allowed our world to grow and advance new ideas, technologies, and cultures. Whether welcoming a new addition to your family, implementing a software upgrade, or planning the construction of a new healthcare facility, a sound change management strategy should be intertwined into your overall plan for change. As humans, we have a natural instinct to respond and adapt when presented with something new. This fundamental resilience has been formalized through process-oriented change management techniques. Embracing a change philosophy allows an individual or an organization to prepare and respond in the face of change.
Before exploring how change management should be practiced, it essential to first review some of the more popular change management strategies available. Having this context will allow the reader to incorporate the best and most applicable elements in the development of their personalized approach to change.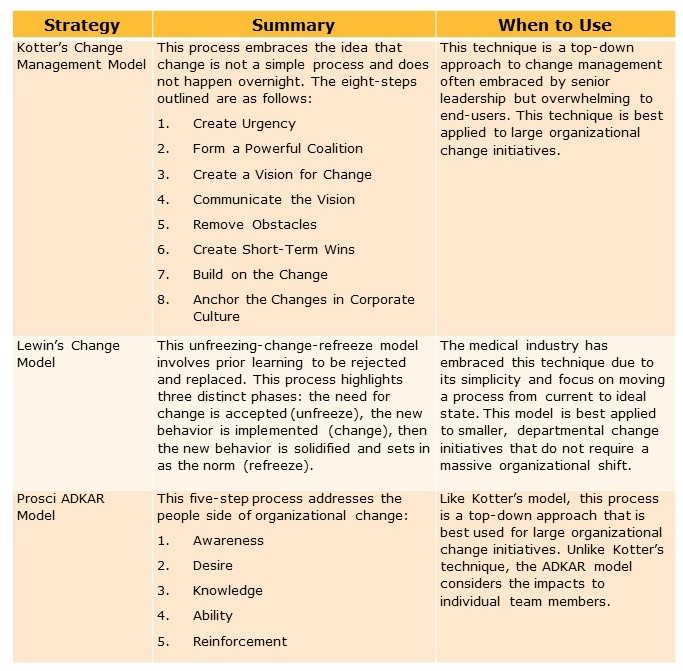 Whichever change management model, or parts thereof, is chosen, it is essential to understand that the need for a change management framework should be embraced at the onset and adhered to throughout the change process. Below is a diagram illustrating the emotional path change takes us (or drags us) through over time.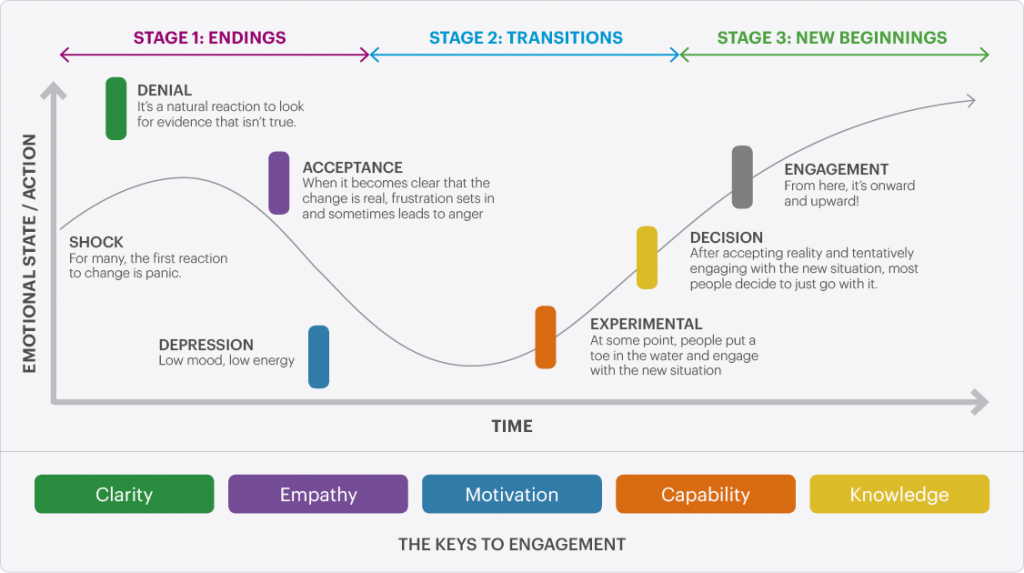 In recent months, we have undergone a massive alteration to our daily routine. The onslaught of COVID-19 has created a whole new personal and professional landscape for many of us. Rapidly evolving facts and response efforts have resulted in a global response to this pervasive change.
While change may present itself in different ways, managing it typically falls into one of two general categories: proactive or reactive. Proactive change, often referred to as "planned change" or "intentional change," involves actively altering present behaviors or expectations in anticipation of a new future state. Individuals and companies alike may take a proactive approach to change if they are looking to avoid a probable future threat or to capitalize on a potential opportunity. Conversely, a reactive approach to change involves the response a person or organization must make after an event or condition has already occurred. While being labeled as "reactive" is often seen in a negative light, the reality is leaders must be equipped and should be encouraged to respond quickly and decisively to an ever-changing world.
In an organizational setting, employing a proactive change strategy is appropriate when armed with the knowledge of pending new regulations or legislation. It may also be necessary with the advent of an emerging technology or based on the signals of a partner or competitor. Industry frontrunners and early adopters must have proactive change programs in place to maximize the opportunity for success when navigating uncharted waters.  Likewise, organizations that are looking to ensure compliance after new laws have been enacted or to remain competitive after a rival has gained an advantage will need to react or respond accordingly.
Leaders must continuously scan their horizons to identify signs, monitor trends, and be sensitive to the environments around their organization. Industry jargon such as "course correct," "decisive action," and "directionally accurate" is applied in the context of a decision-making process in which the unexpected has occurred, or indicators about the future are likely unreliable. The appropriate use of reactive and proactive change management strategies is critical for organizations to remain fast, flexible, and adaptive.
Since no one person can see everything that has or may occur, leaders need to engage their teams in identifying new challenges and opportunities. Providing a timely forum to acknowledge what their team members have seen allows an organization to respond swiftly and deliberately. For many organizations, workplace change may occur rapidly and often. Regardless of how frequent change occurs within an organization, the management of it can be difficult at all levels.
At the management level, managers face multiple change-induced challenges concurrently:
Managers must identify and resolve the operational and workflow impacts of the change.
Managers must understand and accommodate the personal impact that change has on their team members to ease the difficulty of the transition.
Managers must manage and overcome the personal impact that the change has had on themselves as individuals.
At the staff level, employees may also experience various challenges simultaneously:
Employees must accept that the change was necessary, even if it created an impact on their workflow, productivity, or quality of life.
Employees must cope with the uncertainty and added anxiety brought about by change since they are not often at the table with the managers when the potential impacts are evaluated.
When individuals learn of a change, their first questions are usually, "Why is this happening?" and "What's in it for me?" Below is a list of actions that can be leveraged when managing change:
Plan well. Dedicate time, effort, and resources to plan for the change.
Discuss and negotiate. Team member input is needed for successful change. Provide transparent communication to reduce overall anxiety.
Avoid too much change. Team members can only manage a certain threshold of change until stress creeps in, so introduce it slowly and over time.
Champion support. Leverage key team members (those with informal power in the organization) as change champions.
Reduce uncertainty. Supply consistent and transparent communication to mitigate team uncertainty and resistance to change.
Foster strong team relationships. By treating your team with respect and developing relationships built on trust, your team will be more amiable to recommended change.
In the coming months, there is no doubt that we will continue to see change in both our professional and personal lives. By acknowledging that change is inevitable and harnessing both our grit and change strategies, we will be better prepared to embrace any change that comes our way.