A crucial consideration when designing, constructing, and activating a new healthcare facility, is ensuring all aspects of the design and operational plans are compliant with the requirements of the various authorities having jurisdiction.  While the applicable regulatory agencies are often included in the project's development and delivery processes, either as a requirement or a courtesy, final onsite surveys are often required before a facility can be activated. In our experience supporting the activation of healthcare facilities across the country, the prominent focus of surveyors includes the following topics:
Fire and Life Safety
Medication Safety and Security
Infection Prevention and Control
High-Level Disinfection and Sterilization
Patient Privacy
Ligature Risk
Outdoor Spaces
Fire and Life Safety
When moving into a new building, staff need to be safe when working in their new space. This means that staff should know how to respond to an emergency in their new environment. Most often, the response to a fire in the facility does not change.  However, since the physical environment may be foreign, staff must be familiar with the layout of their new space, the placement of emergency equipment and supplies, the delineation of smoke compartments, and the locations of fire exits and evacuation routes. Staff should be sufficiently trained and comfortable with the safety features of the new building and should have practiced emergency activation and response so that they can explain and demonstrate it to the surveyors.
A New Facility Orientation program that includes Fire and Life Safety training should be developed and required for all staff that will occupy or work in the new space. We recommend that this training program include a physical walkthrough of the new building and a post-test to validate staff comprehension. Training for all staff that will be working in the new facility should occur prior to the state regulatory survey and documentation of the completed training sessions should be readily available.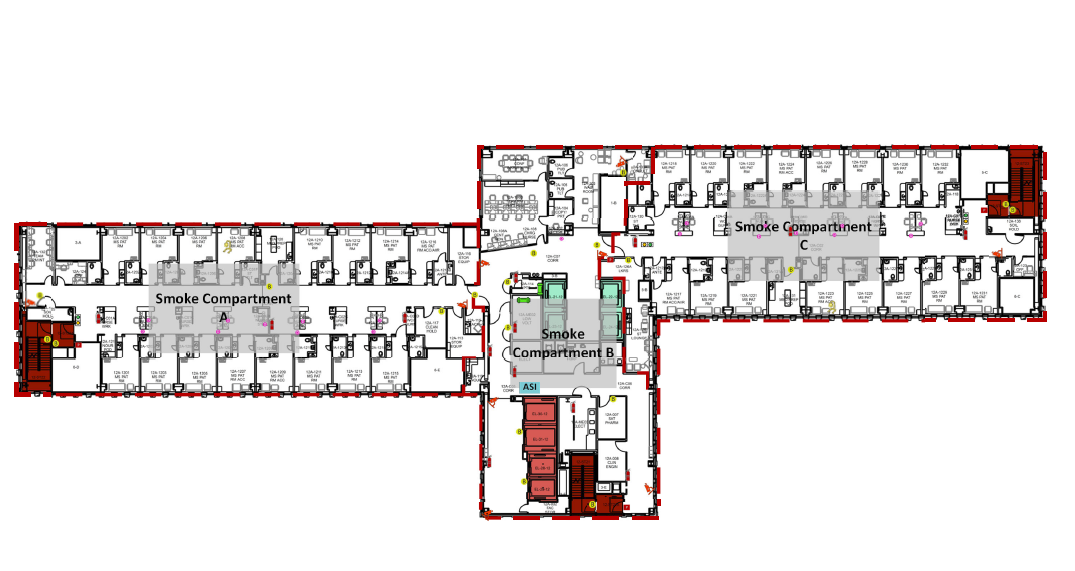 Medication Safety and Security
Medications and medication supplies should be secured and accessible only by authorized personnel, making this another key focus of regulatory surveys. Appropriate access levels should be established, and control mechanisms defined to ensure medications are secure at all times. If the facility utilizes badge readers and keys to control access to medication areas, leadership should validate that only the appropriate team members' badges provide access to these secure spaces. In the case of a necessary exception, staff should be able to describe the process that they follow when unauthorized personnel requires access to controlled areas. For example, when EVS staff require access to a medication room for cleaning, an organization should have a defined workflow and an associated policy that states that non-licensed staff will be supervised during any activities that require them to access medication storage areas. A surveyor will expect that the staff is following the procedures outlined in the organization's policies and that the staff is able to clearly describe these processes. Staff should also be prepared to describe (and demonstrate, if requested) the process to properly obtain, prepare, administer, waste, and document medications.
Infection Prevention and Control
In today's healthcare environments, an organization's infection prevention and control process is a top priority. Standard precautions should be followed in all patient care areas and hand hygiene should be practiced by all staff. Organizations should make Personal Protective Equipment (PPE) visible and readily available for the protection of both the patient and the healthcare worker. Staff should be well-versed in these practices. Staff should also be able to describe the conditions in which Airborne Infection Isolation Rooms (AIIR) are utilized and they should be able to demonstrate the use of these specialized rooms, including how they are accessed by various staff and how the pressure is maintained and monitored.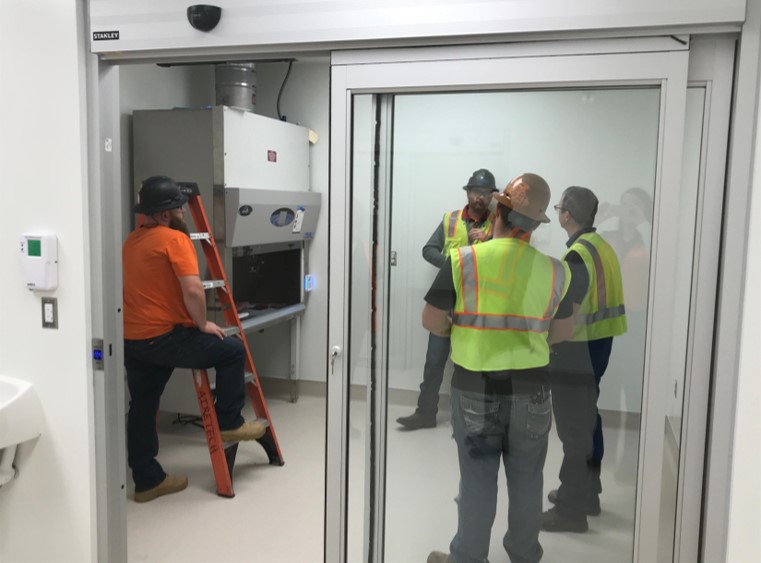 High-Level Disinfection (HLD) and Sterilization
While the local processing of instrumentation provides a clear convenience and efficiency, the usage of High-Level Disinfection and Sterilization processes are highly scrutinized by surveyors. Staff should be able to list any instruments or scopes used in their unit or department that undergo this form of processing and should be able to speak to when and where the processing is performed. Staff should be able to describe (and demonstrate, if asked) any steps that they complete in the process including the application of any pre-enzyme cleaners. Regulatory requirements prescribe that items are transported to the decontamination area using a closed, rigid, covered container that is clearly labeled as biohazardous on all sides of the container, including the lid. Designated soiled paths of travel should be followed when transporting materials with every effort made to minimize the potential of cross-contamination with other materials and personnel during transit.
Patient Privacy and Protected Health Information
The assurance of patient privacy has long been a focus of regulatory surveyors. Staff are generally quite familiar with HIPPA and PHI requirements and may have well-established workflow processes that adhere to these guidelines. However, when opening or relocating to a new facility, additional technology, and more open environments may present new challenges to maintaining patient privacy. Some considerations include affixing privacy screens to computer monitors in any areas that may be within public view and the use of pin codes or badge readers to retrieve print jobs from shared printers or multi-function devices that are in open or publicly accessible areas. An evaluation should be completed for all windows (including doors with built-in windows) inpatient care spaces to assess patient privacy and identify if any windows require tint, frosting, or coverings to obscure patient data. All areas with patient privacy curtains should also be reviewed to ensure that the curtains are the appropriate length and that the curtains can completely close on the ceiling track to provide patient privacy. Additionally, exterior patient room windows should be assessed from various vantage points to confirm that patient privacy is not compromised.
Ligature Risk
A more recent focus among surveyors is ligature risk. As behavioral health units and facilities increase in construction trends, the assessment of ligature risk in these spaces is essential. Ligature-resistant fixtures should be planned for these spaces. An environmental risk assessment should be completed in areas in which patient populations may pose a risk for self-harm including behavioral health units, psychiatric urgent care facilities, and hospital emergency departments that provide care to at-risk patient populations. Modifications to the environment may be required to ensure the safety and well-being of patients. The risk assessment should be documented and made readily available to surveyors if requested. Policies and procedures should also be established to include the actions taken by staff when a patient is assessed as at-risk for self-harm or suicide.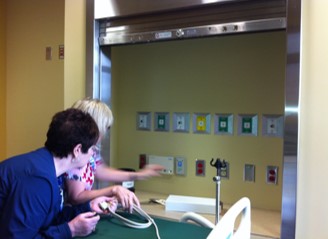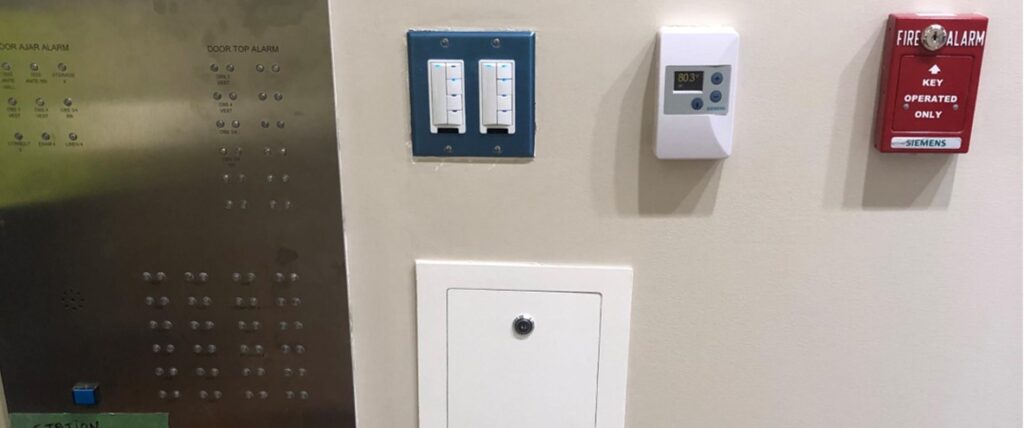 Outdoor Spaces
The incorporation of outdoor spaces as healing environments for patients and respite locations for staff has become a very popular trend in recent hospital design. While such amenities are designed with careful intent, we recommend conducting an environmental risk assessment of any outdoor terraces, patios, gardens, courtyards, or any other outdoor spaces and resolving any issues identified prior to opening the areas for use. In our experience, there are many potential risks with these outdoor spaces, yet many risks may not be apparent until the space is built, and all landscaping, furniture, and fixtures are in place.
A few considerations for evaluation during a risk assessment include:
Validate that any surrounding walls or railings on terraces or other spaces above ground-level extend high enough to prevent people from falling or climbing over.
Ensure that benches and other large items that could be used to climb on and over a railing are secured to the ground so they cannot be moved within reach of the railing.
Confirm that there are no loose rocks or other similar items that could be thrown over a ledge and cause harm to those below.
Verify that all planned plants and foliage are non-toxic if ingested and safe if handled.
Assess any water features for drowning risk for children or stagnant water that could harbor harmful bacteria.
Many of these considerations are often overlooked or compromised for the sake of aesthetics. Be sure to develop a policy for the use of outdoor space and outline any guidelines for use by staff, patients, and/or visitors.
Key Take-Aways
In summary, evaluate the elements mentioned above, focusing on the three main aspects of survey readiness: people readiness, facility readiness, and documentation readiness.
For people readiness, ensure a solid new facility training plan is developed, completed, and documented. Develop scripted responses to common surveyor questions and rehearse responses with staff. Also, allocate more time than you would initially anticipate is necessary for staff to spend time in their new environment. One of the most common lessons learned that we hear from past clients is that they wish they would have provided their teams with more time to become familiar with and comfortable in their new space.
From a facility readiness perspective, establish a process for reporting and tracking issues through resolution prior to the survey. Conduct walkthroughs of the physical environment with a multidisciplinary team to identify issues from multiple viewpoints. Provide an opportunity for staff to test their new areas, equipment, systems, and IT devices and report issues for resolution.
To ensure documentation readiness, begin reviewing existing policies and procedures at least a year prior to the planned activation date. This will allow time to flag any existing policies that need to be updated, make the necessary updates, develop any new policies, and navigate the approval process. Document any risk assessments conducted. Review HR files to ensure completeness and consistency. Maintain documentation of training curriculum and materials with records demonstrating staff completion. As a best practice that we recommend to our clients is that they prepare a physical binder of key documents to have available during the survey so that items can be reviewed and verified easily.
Start conversations early and (re)establish relationships with your state and local regulatory agencies. As construction nears completion, it is advisable to establish monthly check-in meetings with your regulatory authority. Familiarizing them with project floorplans allows time for any concerns to be addressed prior to the survey and reduces the chances of surprises while they are onsite for the physical inspection. Engaging them to tour your project while construction is still underway provides many benefits and can establish some excitement regarding the exceptional facility that you are constructing for your patients and staff. This also opens communication channels and creates a safe forum for you to ask any questions throughout your project and to receive official and unofficial guidance and clarity on ambiguous issues. Additionally, supplying the regulatory authority with the necessary documentation prior to the onsite survey makes for a more efficient, and shorter, onsite survey.
Preparing for the topics shared above and nurturing a cooperative relationship with your regulatory authority will serve your organization well with your current and future healthcare facility projects.